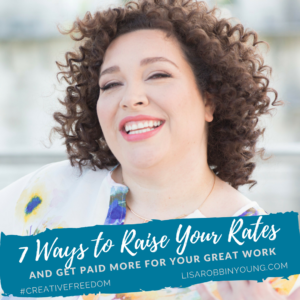 This is Season Four, Episode Six. This is the next logical step after our last episode. Once you get clear that it's time to raise your rates, how, exactly do you go about raising them? Have a listen to this week's episode, where I walk you through a few different approaches, from the basic, Nike approach (just DO it already!) to the "Tuna Can" approach and more. This is the fifth episode in a series about overcoming underearning.
Speaking of which, my program Overcoming Underearning for Creative Entrepreneurs is now open. If you need support in owning the value you bring to the marketplace, and adjusting your prices accordingly join us! Students are already reporting positive results!
Download Season 4 Episode 6 | iTunes | Anchor | Stitcher
If you're listening to just the podcast, you're only getting about a third of the deal. Catch the Creative Freedom web series or join me on Facebook on Fridays at 5:30pm Central time for a LIVE Q&A about the week's topic.
Show Notes
4:22 – Several options to raise rates with existing clients
10:23 – 2 of the 4 big questions every offer needs to answer (and why it matters to your pricing)
14:26 – How one coach cut her content in half and doubled her rates, effectively quadrupling her hourly rate.
21:26 – DIY, DWY, DFY – and how I use these tiers in my own business
Rising Tide Members
Not a member yet? It's free! Click here to join our Rising Tide to get email updates, transcripts, and bonus downloadables only available to members.
Credits & Sponsors
Mentioned in this episode:
Music: "Welcome to the Show" by Kevin MacLeod
Licensed under Creative Commons: By Attribution 3.0