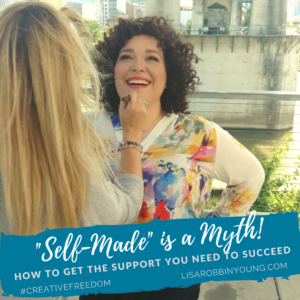 This is Season Four, Episode Eight. It's our final episode in our Summer series about underearning, and yet, it's the most important topic of all – getting the support you need to succeed. I bust the "self-made" myth bubble in this episode, because regardless of whether we start at the bottom or now, we all need people to help make our dreams come true.  Support is critical. Whether that's your personal environment, or surrounding yourself with the right kind of people, help is a non-negotiable when you're building your Noble Empire.
If you need more structure to get the support you need, or more practice in asking for help, join us in A-Club. You'll get a lot out of our tight-knit community of folks. We're all in there, working toward owning our dreams, one step at a time.
Download Season 4 Episode 8 | iTunes | Stitcher | Spotify 
If you're listening to just the podcast, you're only getting about a third of the deal. Catch the Creative Freedom web series or join me on Facebook on Fridays at 5:30pm Central time for a LIVE Q&A about the week's topic.
Show Notes
2:00 – Why the term "Self-made" is a myth and misnomer
12:00 – The 4 kinds of people you need to support you on your journey.
23:54 – How to make connections with your role models
27:32 – Why your environment needs to be like "fertile soil"
Rising Tide Members
This week, you can download a support matrix that will help you get clarity on the gaps in your support network. Not a member? It's free! Click here to join our Rising Tide to get email updates, transcripts, and bonus downloadables only available to members.
Credits & Sponsors
Mentioned in this episode:
Music: "Welcome to the Show" by Kevin MacLeod
Licensed under Creative Commons: By Attribution 3.0