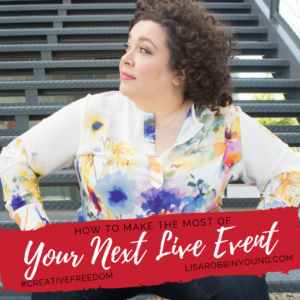 This is Season Four, Episode Nine. The doors are now open to Creative Freedom Live, and this is high season for business conferences and events for creative entrepreneurs. But how do you know whether or not it's really worth it to invest in attending in the first place?
In this episode, I provide a simple "equation" that will help you get clarity about which events will be vital and beneficial to your business, and which ones you should skip.
If you're curious about Creative Freedom Live, we've got a few seats left. This intimate gathering is capped at 10 participants, and we're half full already. Join us in October and we'll build a customized growth plan that works for you and your business for the next 12 months (and beyond)!
Download Season 4 Episode 9 | iTunes | Stitcher | Spotify 
If you're listening to just the podcast, you're only getting about a third of the deal. Catch the Creative Freedom web series or join me on Facebook on Fridays at 5:30pm Central time for a LIVE Q&A about the week's topic.
Show Notes
3:52 – The simple equation that can help you get clarity on which events are worth it and which you can skip
6:05 – The 3 basic goals or attending any event
15:20 – Why it's important to focus on the needs vs. wants of your business goals
 24:04 – Why a "no" today isn't a "no" forever, and the importance of patience and understanding opportunity costs
Rising Tide Members
Not a member? It's free! Click here to join our Rising Tide to get email updates, transcripts, and bonus downloadables only available to members.
Credits & Sponsors
Mentioned in this episode:
Music: "Welcome to the Show" by Kevin MacLeod
Licensed under Creative Commons: By Attribution 3.0