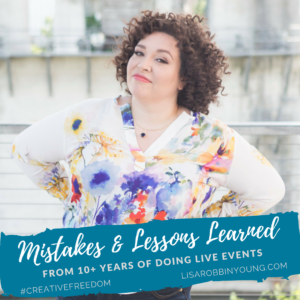 This is Season Four, Episode Ten. Last episode, I talked about events from the attendee perspective. Today, I'm talking about them from the host perspective. Over the past 10 years, I've hosted hundreds of live events. From my basic monthly Accountability Club teleclasses and weekly Facebook Live Q&A's to more complex virtual and in-person events like Creative Freedom Live (Happening in October! Yeah, baby!)
If you're thinking about hosting your own events, here are the mistakes and lessons I've learned to help you host a successful event that works for you AND your attendees.
Download Season 4 Episode 10 | iTunes | Stitcher | Spotify 
If you're listening to just the podcast, you're only getting about a third of the deal. Catch the Creative Freedom web series or join me on Facebook on Fridays at 5:30pm Central time for a LIVE Q&A about the week's topic.
Show Notes
9:07 – The live event screw-ups that almost cost me my car
15:30 – The Jeep event that created an experience that hit all their goals
21:20 – The most effective way to get people to attend your event
25:02 – The importance of ethics and delivering on your promises
Rising Tide Members
Not a member? It's free! Click here to join our Rising Tide to get email updates, transcripts, and bonus downloadables only available to members.
Credits & Sponsors
Mentioned in this episode:
Music: "Welcome to the Show" by Kevin MacLeod
Licensed under Creative Commons: By Attribution 3.0