Recently, a new subscriber reached out and asked me about uncovering her "Great Work" in the world.
First of all, I LOVE it when people email me their questions! If you've got a question, hit me up in the comments or send me an email.
But to answer her question, I had to look deeper at what she wrote. Turns out, she's one of those "Jack of all trades" kinds of people. You know the type: someone who makes you sick because they're really good at a lot of things… but they can't figure out what their ONE THING is in order to make a career at it.
Oh, I know this problem so intimately well… because I'm one of those people.
For years I worked with coach after coach who told me to pick one thing, focus in on one thing, and get good at one thing and let THAT become my income driver.
Problem: Getting good at something isn't an issue. I'm a quick study and can pick up a LOT of things quickly. Then, my learning addiction kicks in and compels me to go deep in the topic so I'm GOOD at it, too.
Yeah, it's kind of annoying to me also. hee hee.
Over the years, I've had so many jobs and career paths that I was starting to think something was wrong with me… but there's nothing wrong with me. In fact, I'm part of a rising number of people that I call "Fusion" Creatives.
With a rise in demand for Liberal Arts and General Studies type degree holders in the workplace, we're seeing a resurgence of "renaissance" types who are versed in a variety of topics, and can hold their own in multiple environments.
Like being at the nexus of creative entrepreneurship, for example.
As a musician and a business coach, I've been pressured for years by coaches and peers to hone in on one thing… but that's like asking me which of my kids gets to live in a sacrificial offering. Not gonna happen. I'd cut out my own heart first.
The number of Fusion creatives is on the rise…
…but the world hasn't been ready to deal with us until recently. Books like Barbara Sher's "Refuse to Choose" have helped give credence to "Scanners" as she likes to call them. We're not flighty, we're actually incredibly valuable – even if we have a hard time seeing it ourselves.
This week's episode of Creative Freedom unveils a glimpse into this research, and gives you an opportunity to take the quiz and discover your Creative Freedom Type. Oh, and Whitney Houston makes a special musical appearance.
Chaotics are the classically creative ones
Fusion types often think of themselves as not creative when compared to their Chaotic friends and colleagues. Chaotics are the type we most often think of as the "creative" people of the world. They can be artsy, or crafty, free-spirited, and willing to "go with the flow". Chaotics are also pretty good with people, communication, and have a strong connection to their definition of the Divine. Some people call them "right brained" but that's a misnomer that's been debunked in recent years.
So us Fusion types tend to feel a little "less than" when compared to our Chaotic colleagues.
Linears usually see financial success first
Fusion types also find that they're the "creative ones" when compared to their Linear colleagues. Linears are the type that think more strategically, enjoy working with patterns, numbers, and figures, and often find themselves at a loss when it comes to building strong relationships, networking, or handling customer service issues. Some people call them "left brained" but – as you can guess – that's a misnomer, too.
And yes, Fusion types tend to feel a little intimidated (or overwhelmed) when comparing themselves to their more financially successful Linear colleagues.
Fusion types have the greatest potential for success
But I said "potential" and potential not acted on is wasted. Fusion types can be good at just about ANYTHING. They just need to hone in and stay consistent, while having the courage to keep sharing their unique blend of Linear and Chaotic awesomeness. Chaotics marvel at Fusion's ability to stay on track, meet deadlines, and generally get stuff done (as a one-woman show, I might add). Linears appreciate the creative streak and courage Fusions have to be "on" with people.
In short, we're pretty freaking awesome, and we have a hard time seeing it because everyone around us is more Linear (or Chaotic) than we are. So instead of seeing our unique blend as fantastic, we worry if we'll measure up.
But when we DO finally stay consistent, we are the Creative Freedom type with the greatest capacity for financial and personal success.
Each Creative Freedom type has a great capacity for success, but…
Each type also has blind spots that slow down their trajectory. For Chaotics, it stars by having a choke hold on your creative vision. For Linears, it's being too focused on bottom-line results. For Fusions, it's perfectionism and comparisonitis that keeps us stuck.
When you learn your Creative Freedom type, you shine a light onto those hidden areas so that you can take action and see success more easily. I stumbled on all of this entirely by accident over years of working with clients and noticing the patterns they were demonstrating.
You don't have to pick just one thing
If I did my math applying the 10,000 hours concept correctly, it takes about 10 years of consistent effort to reach world class status. At 40, I should be world class at about 4 different things, if I applied myself properly over the years. That means, I've got another 30-40 years (or more) to master a few more things. Heck, even Tony Bennett has established himself as a painter as well as a singer!
Fusion creatives don't need to pick just one thing. YAY! Instead, we need to think of our talents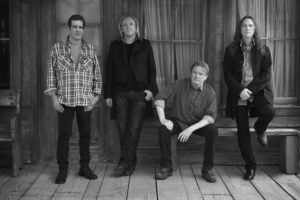 like a rock band – like the Eagles: you've got a lead singer, and others singing backup. Everyone in that band sings at some point in the show – and they've all got years of practice at honing their craft. No one is ignored, and they all get to shine.
THAT is how a Fusion makes the most of their gifts and talents. Put one or two out front while the others provide "back up" and have the courage to experiment and rotate them out from time to time – just make sure you keep practicing and honing your craft before you make a big leap. You don't see the Eagles trying something new at their shows – that's what rehearsal's for.
Be part of our Rising Tide
Have you been the Jack of All Trades in your circle? How have you created a meaningful body of work with your skills and abilities? Did you take the quiz and learn your Creative Freedom type? If so, what is it? Share your thoughts and ideas in the comments and let's be a rising tide for everyone!